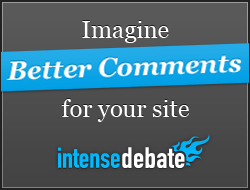 My plugin of the month is IntenseDebate.
For one thing, as soon as I activated the plugin on ChatWithKatrina.com, I got a comment on my latest post.
That's right…within minutes!
However, when I looked at my comment form, CommentLuv was gone.
Bummer!
So, I thought I would have to choose between CommentLuv and IntenseDebate and I was all set to run a test comparing results of having each plugin installed.
But, as luck would have it, I was leaving a comment on a blog that had both CommentLuv and IntenseDebate installed.
So, I turned to my handy-dandy friend Google and found out that Intense Debate actually has a plugin that integrates CommentLuv.
Woo Hoo!
And there are many other types of plugin integrations, as well. From Facebook to Twitter.
To add the plugins log into IntenseDebate.
Scroll down to Manage blogs/sites.
Under the site that you want to add the plugin, click Settings.
Click Plugins.
Locate the plugin that you want to add.
Click Activate.
Related articles by Zemanta